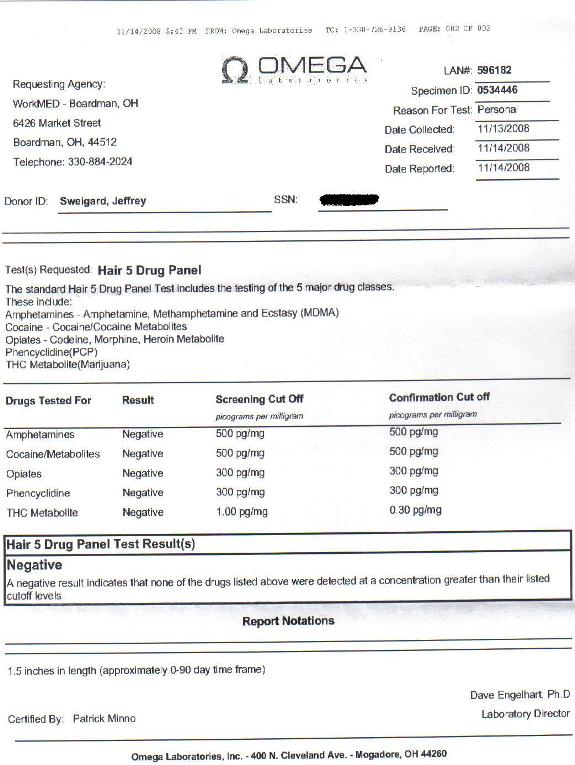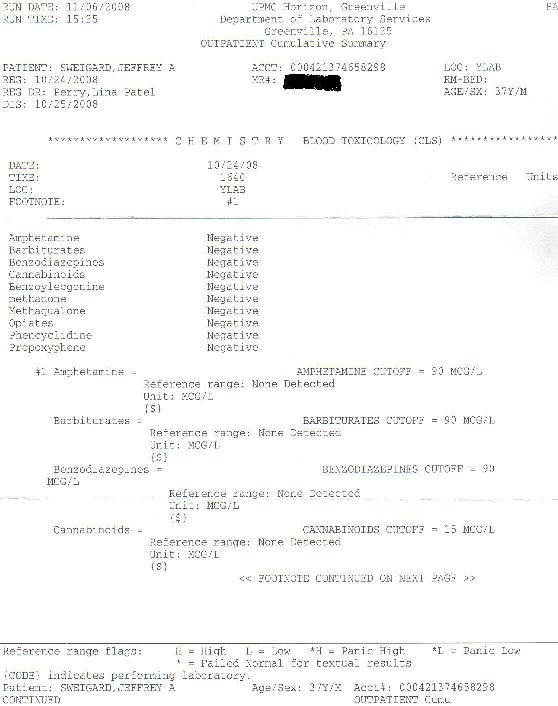 Total cost for tests: $525.00
Update November 25, 2008 - I woke up this morning with some angst. I wrote in my prayer journal and lamented to God. I ended my entry, "I will trust God will fix it.". This evening I got a card with a very generous amount of money from the great people I work with at Reynolds. I feel guilty receiving it. I'm honored to have friends that stand by me and I'm encouraged by the kind things they wrote. I hope I can return the favor. I'm committed to serving God and in doing so, I would imagine that my actions would seem moronic. I've already forgiven all parties involved. I have hope that the end result of this will be positive for all involved. I'm looking forward to getting back to work. Thank you for praying!
Update December 6, 2008 - People have been great and asking to help in any way. I received a very generous donation from my church Rock of Grace and I'm very thankful. I have had several people ask if I needed money. Right now I'm okay. I have some money in savings. If I don't get paid for my time off, things will be tight, but I'm paid ahead on my house, I may only fall behind on my utilities. I'm thankful for the money, but it kind of makes me feel bad, because I know so many more people are worse off then I am. I am frustrated, but I also know how well I have it. I will ask for continued prayers. God Bless and Thanks!
The Parable of the Unmerciful Servant
21

Then Peter came to Jesus and asked, "Lord, how many times shall I forgive my brother when he sins against me? Up to seven times?"

22Jesus answered, "I tell you, not seven times, but seventy-seven times.

23"Therefore, the kingdom of heaven is like a king who wanted to settle accounts with his servants. 24As he began the settlement, a man who owed him ten thousand talents was brought to him. 25Since he was not able to pay, the master ordered that he and his wife and his children and all that he had be sold to repay the debt.

26"The servant fell on his knees before him. 'Be patient with me,' he begged, 'and I will pay back everything.' 27The servant's master took pity on him, canceled the debt and let him go.

28"But when that servant went out, he found one of his fellow servants who owed him a hundred denarii. He grabbed him and began to choke him. 'Pay back what you owe me!' he demanded.

29"His fellow servant fell to his knees and begged him, 'Be patient with me, and I will pay you back.'

30"But he refused. Instead, he went off and had the man thrown into prison until he could pay the debt. 31When the other servants saw what had happened, they were greatly distressed and went and told their master everything that had happened.

32"Then the master called the servant in. 'You wicked servant,' he said, 'I canceled all that debt of yours because you begged me to. 33Shouldn't you have had mercy on your fellow servant just as I had on you?' 34In anger his master turned him over to the jailers to be tortured, until he should pay back all he owed.

35"This is how my heavenly Father will treat each of you unless you forgive your brother from your heart."